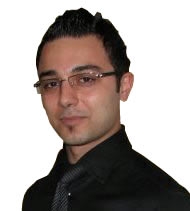 Kaveh Kalantar
Scrum Master (CSM, CSP) / Project Manager (PMP), G2, Czech Republic
Earned Value Management & Earned Schedule Application in Scrum
Toolbox of today's project managers is full of useful and practical techniques. However marketing and branding activities of project management frameworks created a radical environment in which project managers are afraid of using tools from other process frameworks and methodologies. Like many other things in the world, project management tools and techniques are evolving and industries test, evaluate, modify, improve and adopt such tools and techniques to survive in today's competitive business environment. A traditional tool that has been used for decades, can now be more practical than ever before when you put it next to a modern technique in project management toolbox. At this session, Kaveh will open the discussion of using an advanced tool, EVM, in a project management framework such as Scrum.
Presentation to downlaod: PDF (739kB)
About Kaveh Kalantar
Kaveh is an entrepreneur by nature and has an enduring passion for technology. He has led and managed many projects in information technology and higher education over the past 10 years. His current focus and research activity is in the application of EVM and Earned Schedule in agile project management frameworks such as Scrum. EVM – Earned Value Management – set of techniques for prediction of final costs for project.