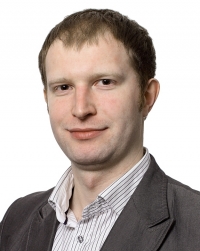 Vaidas Adomauskas
Product Manager (Product Owner) and Scrum Coach, Adform, Lithuania
Product Management in Agile organization with product developed by many teams
Early in 2010 we implemented Scrum in Adform as its development process. More than 40 people were split to 6 cross functional teams. So what's the big deal you will ask? The big deal for us was: we all work developing ONE product (SaS AdServing platform)! We are not working on separate projects! How to organize Product Management work to fit this? How 6 Product Owners should work together, with company management, and other departments? How to split big features and divide work to teams (usually one feature had to be implemented by few teams to bring value to the customer)? What to do with "research" projects? How to handle the growth of the company (now we have more than 50 people and 8 teams)? In this presentation I will share our journey, as well as mistakes we made and lessons learned. If you are implementing Agile in organization or project with many teams working on one product – this presentation is for you.
Presentation to download: PDF (8,48 MB)
About Vaidas Adomauskas
Vaidas works as a Product Manager and Scrum Coach in Adform. Now he is responsible for one of the company key product as well as every day review and improvements of Scrum in Adform. Before returning to Lithuania he helped to implement Scrum in Lavasoft (Sweden). Vaidas is sharing his experiences in http://scrum.agile.lt blog, gives presentations in international and Lithuanian IT/Agile conferences, as well as consults/runs trainings for companies implementing Agile methods. He is initiator of Agile Lithuania community, Agile and Scrum user group meetings, and Agile conferences in Lithuania. He is Certified Scrum Master (CSM), Certified Scrum Product Owner (CSPO), Certified Scrum Professional (CSP) and member of Lithuanian Project Management Association (LPVA). Vaidas is teaching "Agile Project Management with Scrum" course in Vilnius University.