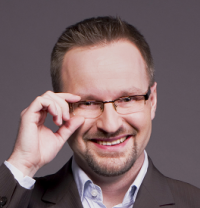 Mariusz Sieraczkiewicz
Coach, speaker, trainer, author. BNS IT, Poland
Structured soft skills (not only) for Technical Leaders.
You are not a born leader. You haven't been prepared to be one but you were chosen to be. And then everything changed. Now you should be a good communicator, negotiator, mediator, facilitator, motivator. You have heard that you should be a servant leader, should prefer collaboration over contract negotiation, people over processes but … you think: "What the heck should I exactly do?" Most of the leadership hints are general, fuzzy and unstructured. If it sounds familiar to you, this is a talk for you.
We will talk about fundamental soft skills in a structured way. You will see a lot of schemas, diagrams, algorithms, dependencies you weren't aware of before. This way misty soft world will become familiar and easier to understand for left-brainers (people loving to think in an analytical way).
What we will talk about?
How to resolve tough (conflict) situations.
How to find a problem solution.
How to conduct effective meetings in a way nobody told you about earlier.
Who will benefit from this?
Technical leaders, team leaders, any other kind of leaders working dealing with software development.
Leaders and all technical folks interested in developing their soft skills.
Technical guys (developers, testers, ux designers) at least having clue that soft skills might be really important in their work.
Presentation to be downloaded: PDF (4,40 MB)
About Mariusz Sieraczkiewicz
Has been software professional for more than 10 years. Passionate about learning from experience especially when dealing with real-life software projects. As a trainer and consultant works with top teams on technical leadership, process agility and clean code. Co-conducts in-depth researches on critical success factors in software development. At top of that Mariusz has published dozens of articles in Software Developer Journal and Polish "The Programist" magazine.
His motto is "In most cases it's all about people" what drives his focus towards communication and team members cooperation. Domain experience: Telco, Finances, Insurance, Manufacturing, E-commerce.