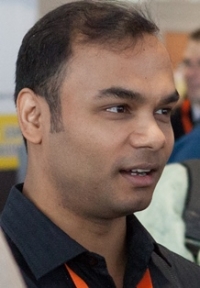 Jyoti Prakash Datta
Product Owner, Application Development Team, McKinsey Digital Labs, India
People dynamics - agility to our rescue.
In their endeavour to be agile, teams often lay undue focus on following ceremonies and maintaining artifacts and thus lose sight of true agility that comes from customer collaboration and excelling in people dynamics. We believe that one of the inherent values of agile teams and the secret to successful Product Ownership is the mindset that builds bridges of communication and trust, resulting in active problem solving. In this session, we will describe how constructive dialogue and behavioral agility have enabled us to meet our project goals. We will narrate our learning experiences with stakeholders highlighting that investing in relationships bear more fruit than investing in mere solutioning. We will also illustrate how flexing our styles to suit the situation and customer has eased our path to success.
The audience will learn how they can put themselves in the customer's shoes and focus on the big picture, the two of the greatest secrets of product ownership. They will also learn how we can achieve not what the customer wants but what the customer actually needs. They will also hear from us real life experiences of keeping an open mind, using humor to diffuse tension, and listening actively to both words and body language. The audience will learn techniques to build a rapport with customers which eventually helps in better and right solutioning. Also, they would gain from our experiences of weighing in the cultural nuances and leveraging all shared interests.
Presentation to download: PDF (6,40 MB)
Jyoti Prakash Datta
Jyoti is a Product Owner at McKinsey Digital Labs. He works out of Gurgaon, Delhi, India and has been an avid agile enthusiast for the last 3 years. During this time he has led teams transforming their way of work into agile and also spoken and participated in many conferences about his experiences.
Jyoti is speaker at AgileIndia 2012, Organizer of AIM Conference 2012 (Aspire, Inspire, Motivate), people interactions and behavioral enthusiast and a passionate agilist in India.