Budapest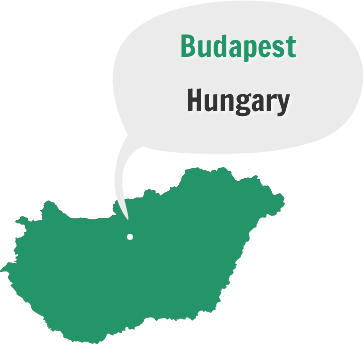 Budapest is a capital of Hungary located on Danube river, often called Little Paris of Central Europe. It is an economic, cultural and traffic center of the country. Eight of range biggest city in the European Union and the administrative center of the Pest region.
With its location it ranks among most important European cities and creates important business and economic axis Prague -Vienna-Budapest. Budapest city is a center of many universities. The best known is the University of Loránd Eötvöse (ELTE).
Budapest is perceived as an ideal business and financial center of Central and South-eastern Europe. There are activities of many foreign companies concentrated here, which creates macro-regional center for IT services, logistics, corporate finance and customer services. The town is place of many industrial branches, such as pharmaceutical and biotechnology industry represented by many biotechnology corporations (Pfizer, Teva, Novartis, Sanofi) and in addition high-tech industry such as software development and software engineering (Ericsson, Bosch, Microsoft, IBM) which employ thousands of engineers. Other important sectors are natural science, information technology, non- profit organizations and universities. Budapest is a home of European Institute of Innovation and Technologies (EIT) and Chinese Investment Promotion Agency (CIPA).
Nearly 4.3 million visitors arrive annually which is the 25th place in the world rank. The Danube metropolis gained the importance as a spa city. Thermal spa was established in the period of 1541–1686 and since then are used for not only healing but also for recreation purpose.
Tips for foreigners There is one basic rule in the Hungarian language which doesn´t need to apply in other languages and cultures. You proceed from the most important thing to the less one. It may sound logical but this is the exact opposite from other languages. What you have to do is simply say, what you want to emphasize, at the beginning of the sentence. For example if you want to write the date you should follow this structure: year, month and finally day. You also write your surname first and your given name follows.
---
Venue
Agilia Budapest Conference takes place at Budapest Chamber of Commerce and Industry and at Colabs start up center and tech hub, not far from city center and easily reachable by public transportation. In the surrounding there is available great selection of hotels of various categories. For accommodation during event, contact Aguarra.
Budapest Chamber of Commerce and Industry
1016 Budapest • Krisztina krt. 99
Conference contact
Phone: +420 312 245 630
E-mail: jceplechova@aguarra.hu
Web: Budapest Chamber of Commerce and Industry
Accommodation
Mercure Budapest Buda Hotel • 1013 Budapest • Krisztina krt. 41–43
For accommodation please contact conference contact above.
|   | Ár |
| --- | --- |
| 1/1 szoba | 75 EUR |
| 1/2 szoba | 85 EUR |
---
Nearby Accommodation
In case of filling the hotel capacity we can recommend these lodging facilities:




---
Getting to Budapest

By Air
Travelling by air is without doubt the best way. International Airport Budapest-Ferihegy is the third busiest one in Central Europe. The airport connects to Budapest 16km long speed way. There are many ways how to get to the town: Airport mini bus, Taxi, Transfer +, Public transport.
By Train
Budapest is directly connected to 25 European capitals and 54 international trains which all offer dining and sleeping wagons arrive regularly to the town. In case you will use such a train you will arrive fresh to the conference. Minibus services of Hungarian National Railways will take you directly to the hotel or the airport or even transfer you from one station to another.

By Bus
You can come to Budapest from any place of the country or from abroad travelling with VOLÁNBUSZ company.

Brno Car
If you prefer travelling by car you can visit many interesting places around the country which are plenty there. You can always park your car in the hotel parking place.