We are looking for volunteers (or partners) to help us organizing Agilia Conference – Globally.
I am the founder of Agilia Conference, a conference about agile methods for organizations, which is listed in 2018 among the World TOP 20 conferences on Agile. I would like to redesign the event and get it closer to the world, closer to people who struggle with their organizations, and would like to obtain inspiration for improvements.
We are looking for volunteers or partners to join our team of organizers and helping us bring the conference to your geographical area starting from 2020. We are not restricted, but after extensive research, we are interested in the following locations:
• Europe (with a preference for Munich, London, Vienna, or Stockholm)
• Asia (with a preference for Kuala Lumpur and Singapore)
• Latin America (with a preference for Santiago or Asunción)
What is Agilia Conference?

It is already 9 years when I started organizing Agilia Conference. In the beginning, my mission was just simple – frustrated from seeing how organizations in our country are poorly organized, I wanted to help. I decided to bring the brightest talent to the country, and on examples inspire managers that organizations can be managed better. I made the event alone and without experience. It was exhausting, but also a lot of learning, both about organizing events, but also about the quality of content.
I have realized it makes sense to organize the event with a sustainable long-term vision in mind. It must be unique in some way – excellent content and learning opportunities, business focus, great atmosphere, and international ambition. Different from hundreds of others.
We aim our focus on the delivery of value for delegates and attracting them to come from entire Europe. We provide deep learning through quality content, inspiring presentations, training, or networking. Over 9 years we were bringing ultimate news on average 4 years prior they appeared at other events and much earlier than implemented into reality. We have added special tracks, workshops, discussions, tours, networking, and also thematic conference editions. We have invented nearly 20 innovations other conferences copy from us.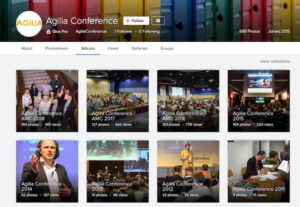 Our hard work paid off. In 2018, Agilia Conference was listed by TechBeacon among the top 20 agile conferences in the world, alongside events like Global Scrum Gathering by Scrum Alliance's, AGILE by Agile Alliance, Lean Kanban Conference by Lean Kanban University, or Agile Cambridge. Only 6 were from Europe.
What makes the conference so special?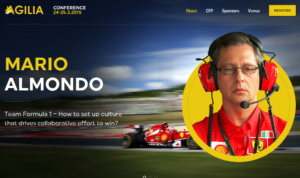 Attention to detail, professional content, and atmosphere are among the highlights. More you can find in article 7 reasons why to come.
Every year different speakers – while most conferences are closed clubs of friends presenting every year more or less the same stuff.
All Agile streams at a single place – because Agile is not about software development, all organizational functions must be presented, financial management, project management, innovations, R&D and SW development, product design, operations, people management, or strategy.
Top personalities from the world – not only agile thought thinkers but also personalities from business, public institutions, entrepreneurs, politics, and others.
Verified presenters – with a focus on true expertise and achievements, we evaluated everyone's true experience if willing to speak. Attending 2 days course is not enough.
Success stories get verified on site – did you noticed more than 50% of use cases at conferences are elaborated fakes?
Unique content – people who have something important to say are not submitting their stories. We are finding them and convince them to share. Sometimes we were involved as partners in designing presentations and giving feedback. We were seeking novel presentations not to be presented yet somewhere else.
If interested and you would like to co-operate or join the crew, contact us. Email us or drop a message. Let us know how you can help.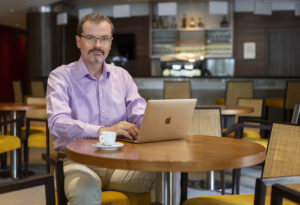 Michal Vallo
Conference Chair and Curator
Prague, Czech Republic